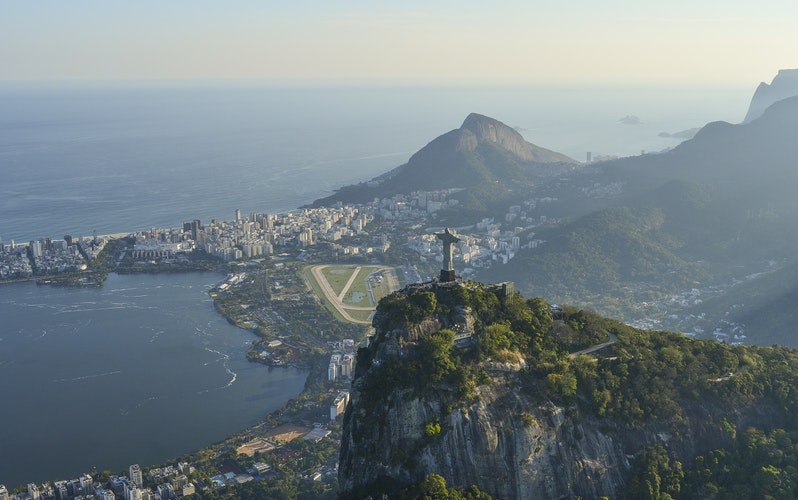 Photo by Raphael Nogueira on Unsplash
BRAZIL, February 2017
I leapt, from the icy Berlin winter into the suffocating heat of Brazil, pulsing with the Carnival craze. I was both scared to death and excited AF. I didn't know what to expect from this week. What was I thinking, flying across the world for a man I barely knew? My friends warned me about the dangers of Brazil ('You'll have your throat sliced in two') and Brazilian men ('You'll have your heart sliced in two'). I had met Bruno back in Berlin. Five nights of forgetting the world in each others' bodies. Before leaving, he had given me one of his deep dark gazes and challenged me: 'Come to visit me in Brazil'.
So there I was at Sao Paulo airport, following my crazy goddam heart. As I stepped into his car, I didn't know whether the feeling in my stomach was fear or arousal. Probably both. The night was falling, we were speeding through the city on a five way road across the concrete forest, swallowed in its dark moist heat. At every red light, he would close the windows and lock the doors. 'For safety' he said. I saw a young beggar who had lost his legs moving between the cars on a skateboard.
Bruno's building had security guards. He said that this was normal in Brazil. Later on I couldn't help but be suspicious: Why was his apartment so clean? Was he married? Was this the flat where he would bring all his lovers? To slice their heart in two…or their throat? Then, in a bright Brazilian smile, he hold my whole body to kiss me and just like that, all doubts melt away.
The next few days, I was in heaven. We would go to fancy bars, all located in concrete cubes, and stroll through parks full of tropical plants, that I had only known from greenhouses. But fear crawled back in when he left for work on Wednesday. Without his protective presence, the outside seemed like a hostile world. It wasn't until Friday that I gathered the courage to go out of the building by myself.
I decided to walk towards the Museum of Modern Art and before I knew it, I was lost. I tried to relax and text him. No more battery. I stepped into a random bus and hoped to recognize something at some point. After 20 minutes, the only thing I recognized, was that the bus was driving away from the City Center straight to THE FAVELAS, City of Sin. It was starting to get dark, I stepped out at the next station, in panic, trying to communicate with pedestrians through gestures, as no one could speak English. The tropical rain started pouring and I hid in a corner of the bus station. My friends were right. I was going to disappear into Sao Paulo's night. But when I looked up, I noticed that everyone else was relaxed and happy, on their way out for a drink. I was actually near Paraíso, a train station I knew. I ran home, shivering like after near-death experience. And yet, during all that time, I had just been near Paradise.
On the weekend, we went for a trip to Rio. There, Carnival was celebrated to its fullest. It was an explosion of colors and joy. Women and men in all shapes and sizes were proudly showing off their bodies in pink, yellow, green, zebra patterned T-shirts, dresses and bikinis. In the Portuguese colonial architecture streets, huge trees were growing wildly, devouring the whole space. Here, even nature disregarded rules. Everywhere in the metro, there were ads with condoms raining on a crowd of dancing people. The world had just gone mad.
In the evening, Bruno brought me to his favorite bar, Boteco Cabidinho. It was midnight, full and loud. In the background, a TV was showing the parade crumbling down. We were drinking and talking for hours. In between two shots of cachaça, he dived into my eyes and said: 'There's this energy between us, I can feel it. I'm serious about us.' Yes, it was scary, but so worth it. And just like that, my heart leapt.